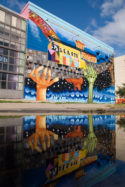 Celebrating 15 years of the Power of Vision mural project
For more than a decade, art has been an important community building tool
in Hope's place keeping and leadership development work. Within our Art,
Policy, and Power program, the Power of Vision (POV) mural project (est.
2004) has been a space for youth and adults to create murals that reflect
community, convey understanding and embody hope. The POV project
allows local emerging artists in our community to learn from mentors and
create public art reflective of their own vision of their community, while
building art skills, leadership, and relationships.
As Hope's mission expands and our next chapter unfolds, the history of creating
Power Spaces remains a part of our core. POV exemplifies this by creating a
space for youth to explore arts in a new way—knowing they are at the center
and that their voices will be driving the narrative of the final mural—visible in
their own city. The POV project, like all our work, is part of our overall
strategy of Place Keeping—a development and engagement approach that
recognizes, amplifies, and leverages the stories, practices, and collective
assets already found within the neighborhood and the community.
Your investment in Hope is an investment in the power of community. Hope's approach is to build on the existing power of community and to focus our work on what we hear from community. It is intentional, complex, and strategic and creates space where people can be part of a community where they can connect with others, learn together, and build the future they want to see.
We are grateful for your belief in, and generous support of our work.
Click Here to View Our 2018 Fall Newsletter (pdf)