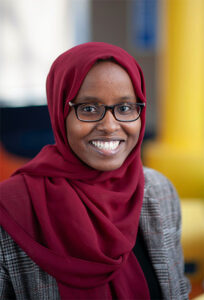 Malyun Yahye is the Community Ownership Project Coordinator at Hope Community. She started at Hope as a contract interpreter for the Community Circles of Hope program in 2016. From there she joined the staff as a program assistant for Community Circles, and later took on other roles within Community Engagement. From 2018 to 2019, Malyun organized the Shaah Iyo Sheeko program, a weekly tea and conversation for the community, and also coordinated the database for Hope's community engagement programs.  In 2020, she joined the real estate team as the Community Ownership Project Coordinator where she organizes the Community Ownership cohort trainings, supports graduates, and recruits interested participants.
Malyun is a first-generation immigrant and she is fluent in Somali and English.  She has been an organizer since she was a child helping community members with interpretation. She enjoys advocating, helping community members find resources, and building bridges between communities.  
Malyun is a graduate of Hope's S.P.E.A.C. Community Organizing program, CURA's Neighborhoods Now training, and the COFI Organizing program.  She holds an AA degree from Minneapolis Community and Technical College and is close to completing her bachelor's degree through Augsburg University. She enjoys helping community members who want to get into homeownership and is interested in getting her real estate license and possibly even a law degree in the future.