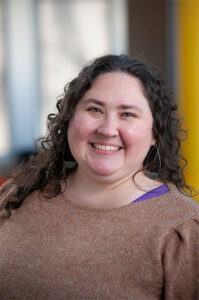 As the Donor Relations Manager, Lauren leads relationships and communications with individuals and families who move money to power Hope's mission. For all who share their generosity with Hope – whether they've been giving for two years or twenty – she shares what it takes for Hope to create and sustain our vision of an equitable community that advances racial and economic justice. This includes our Giving Community, where all are welcome and celebrated!
A native Iowan, Lauren holds degrees from Macalester College and the University of Washington School of Social Work, and she is an alumnus of the Headwaters Foundation for Justice Giving Project. Her previous work has included youth development, family advocacy, community-based education, and the creation of deeply affordable supportive housing. She is passionate about radical wealth redistribution and inspired by the abundance we find when we trust the wisdom of community.
Outside of work, Lauren can be found parenting and trying to keep up with the various activities of two young people, hiding out in her home library, and singing with the Twin Cities Women's Choir.