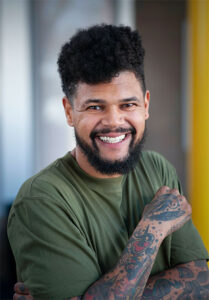 Angel Sandro came to Hope in 2018 as a contracted co-facilitator for the Camp Readiness program at Hope and in 2022 was hired full-time as the Youth Program Organizer and Young Men's Group facilitator. Angel created and continues to co- facilitate the Camp Readiness curriculum that prepares 10–13-year-olds to have a successful week at camp that includes meditation, yoga, art, group games, sports, uplifting core values, and teaching self-regulation. For the Young Men's Group, Angel Sandro leads a cohort of young men developing technology skills and supports in the Best Buy Teen Tech Center.
Preparing him for these roles, Angel's past experiences include 10+ years working as a Street Outreach Worker and Youth Program Organizer with at-risk and homeless youth ages 11-25 with a couple of nonprofit organizations in the metro area. He ran a peer-to-peer outreach program, specifically focusing on encampments in downtown Minneapolis and southwest suburbs. His work included educating and collaborating with community members, funders, police officers, social workers, and politicians on issues of youth homelessness. In his work as the Youth Advocate/Outreach worker, Angel provided support, resources, safety, and basic needs for youth experiencing homelessness. Angel is passionate about working with youth due to being in an orphanage foster care at a young age and having loving mentors along the way.
Beyond his work at Hope, Angel is an entrepreneur and co-owns a small business called MPLS HOUSE, which is an arts collaborative of 4 members that focuses on music production, canvas/digital art and Djing at local venues.