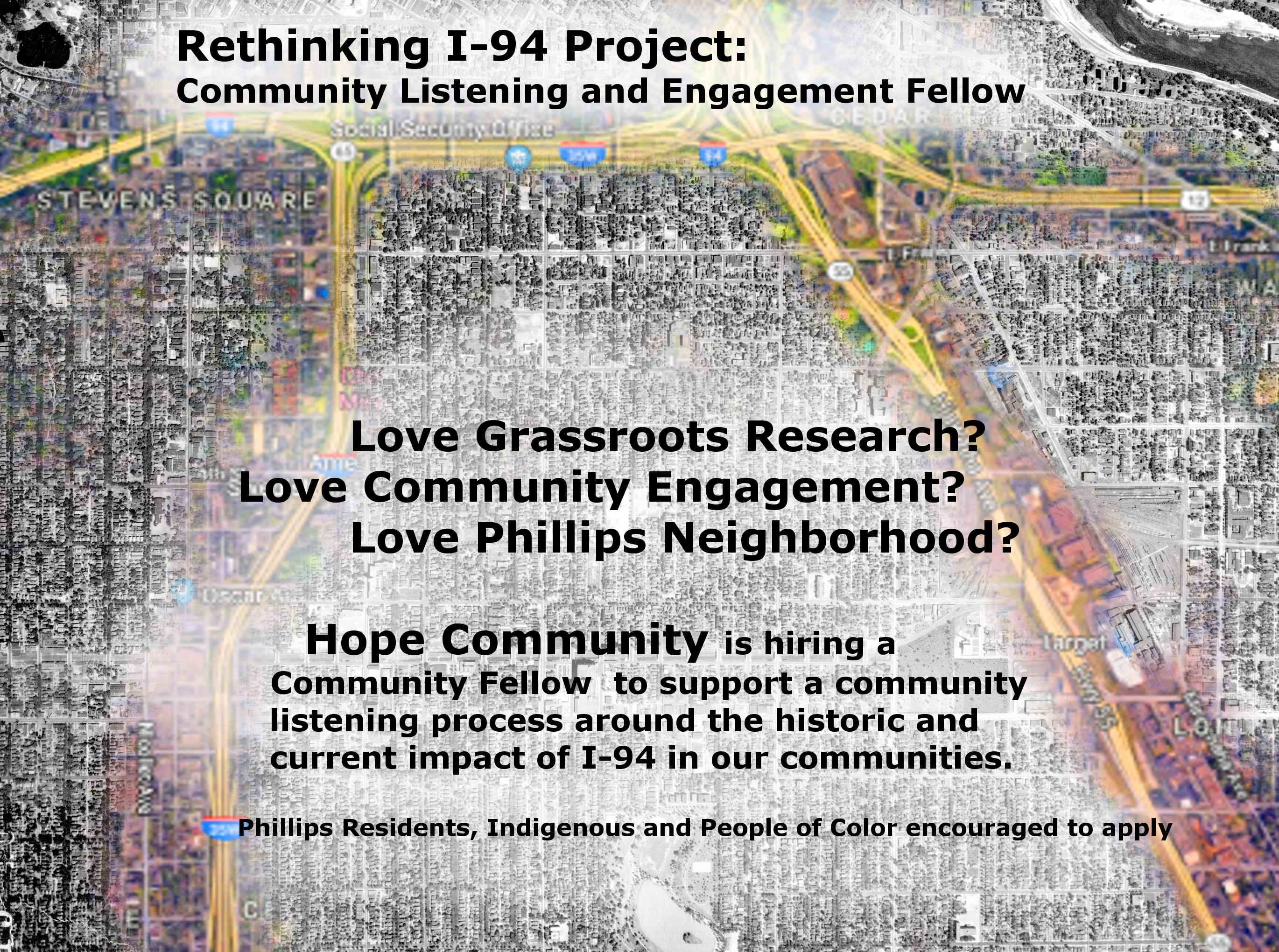 Community Listening and Engagement Fellow: 
Rethinking I-94 Project
Hope Community (Hope) is an innovative Community Development Organization with a 38-year history in the Phillips Community of south Minneapolis. Our mission is to create connections that strengthen the power of community members and communities. We cultivate community leaders, build community capacity, care for the housing and community spaces we develop, and pursue equity and diversity in all we do. Our work is grounded in principles of respect, connection, listening, learning, and co-creation. Community Engagement is central to Hope's work, and hundreds of diverse youth and adults are involved each year in community and skill-building activities, leadership and civic involvement, art and community projects, learning and place-keeping opportunities, and community and cultural events.
Hope is participating in the community engagement process for the Minnesota Department of Transportation (MnDOT) and Metropolitan Council's project entitled Rethinking I-94.   MnDOT will be designing renovations and changes along the freeway corridor over the next few years.  This project is intended to lift the needs, concerns, and voices of residents along the I-94 Corridor to the center of the planning process, recognizing that the construction of the freeway disrupted communities, displaced residents, and has had a lasting impact particularly on Indigenous communities and communities of color in this neighborhood.  We will be conducting a series of listening sessions around Phillips neighborhood, gathering input and stories around the impact of I-94 on health equity, community connectedness, safety, culture, economics, and possible solutions.
OVERVIEW OF POSITION
The Community Listening and Engagement Fellow will collaborate closely with Hope's Community Health and Resilience Organizer to design and implement community listening sessions at various partner sites in Phillips neighborhood over the summer 2018.  They will participate in historical and current research on health, access, demographics, conduct oral histories with people affected by displacement, create learning materials, lead community engagement at Franklin Open Streets event on August 26th, and collaborate in sorting findings and writing a final report.
For this position, we seek someone who will have a good understanding of a base-building approach to organizing; will think and work collaboratively in a diverse, dynamic, and highly interactive environment; and will be able to manage multiple responsibilities and relationships with community members to work towards a common purpose.
Skills/Abilities
Strong interpersonal skills
Strong creative thinking, reflection, and problem-solving skills
Collaborative design facilitation skills
Ability to plan and manage time, information, and multiple priorities; to follow through on commitments and meet deadlines
Ability to take initiative and work independently as well as to work as a member of a collaborative team
Ability to ask for help, take direction and receive constructive feedback
Good English language skills (spoken and written)
Proficient in computer skills including Microsoft Office
Qualities/Characteristics – others would describe you as:
Outgoing, friendly, interested in people
Flexible and adaptable, yet firm when needed
Self-motivated, energetic
Reliable, accountable, committed
Committed to working interculturally
Reflective, thoughtful, wants to learn
Preferred:
Conversational proficiency in language(s) other than English
Experience with Hope Community's approach to engagement
Experience with Participatory Action Research, listening sessions, and/ or oral history/ data collection
Have relationships in the greater Phillips communities
Position Dates:
Mid -Late April 2018 to End of September 2018
15-20 hours/ week
Competitive hourly wage based on experience and qualifications
TO APPLY:
By April 20, 2018, please send letter of interest, resume (or other documentation of experience), and 3 references to:
Olivia Levins Holden, Community Health and Resilience Organizer
olevinsholden@hope-community.org
Hope Community is an Equal Opportunity Employer

Indigenous, People of Color, LGBTQ highly encouraged to Apply.