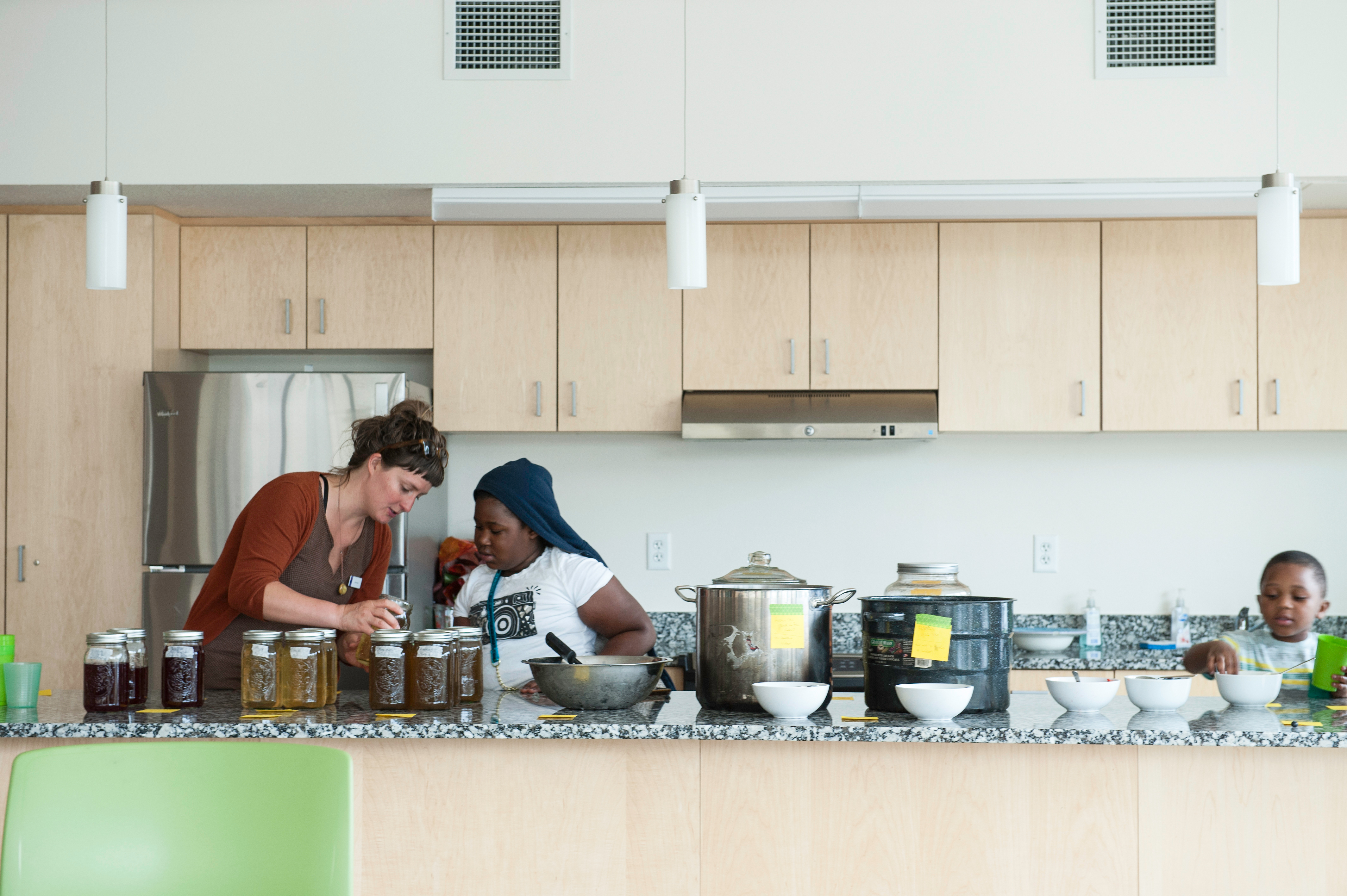 Hope Community
Program Assistant- Food, Land, and Community Program
Hope Community, is an innovative Community Development Organization with a 40-year history in the Phillips Community of South Minneapolis. Our housing/community revitalization strategies and partnerships create affordable housing in a community context integrated with indoor and outdoor gathering spaces. Community Engagement is central to Hope's work. Hundreds of people each year are involved in youth and family activities, leadership and civic involvement, art and community projects, learning opportunities and community and cultural events. Hope's Community Listening model has engaged over 4,000 people in small group dialogues about their community.
Position
The Program Assistant position will support the Food, Land, Community program at Hope Community, Inc. with a specific emphasis on youth and family engagement and leadership development.  The Program Assistant will work collaboratively with program staff to design and facilitate inter-generational programming at our farm, in the kitchen and at the table.  Our farm includes three gardens with annual and perennial vegetables—where we grow, tend and harvest together.  Our kitchen is a vibrant resource for our community members—where we process, prepare and cook food together.  Our table is more than just a place where we share a meal and break bread—it is where we gather, connect and build connections, share our stories, experiences and wisdoms. Our program aims to 1) build food and land skills, 2) develop community leadership and capacity and 3) support social connections for resilient communities.
Responsibilities
Engage—Engage, recruit and build relationships with youth and their families in our community food work–in our farm, in the kitchen and at the table
Facilitate—Plan, coordinate and lead inter-generational programming year-round, in addition to managing a special summer project with a team of teen interns
Support/Admin—Coordinate logistics and support for all programs (maintain records for contacts, communications, evaluation and documentation, pick up needed supplies, support volunteers, etc.)
Specific Duties
Attend program meetings and check-ins
Prepare for program, run errands, clean up/take down
Assist with Farm program—garden tasks, harvest, build infrastructure
Assist with Kitchen program—cooking tasks, preserve and share food
Assist with Table program—coordinate monthly skill-shares and community gatherings
Connect with community—build the base in our community food project, 1:1's w/community members
Attend monthly staff meetings and reflections
Reflect, write, evaluate program goals and outcomes
Qualifications
Experience
Coordinating and leading youth and family programs
Growing and stewarding on urban farms, community gardens and other environmental spaces
Working in and with members of a diverse community (race, class, culture, gender, age, experience, education, ability, country of origin, language, sexual orientation, beliefs)
Mentoring youth in completing a project and developing goals and timelines
Skills/Abilities
Strong collaborative approach to community work
Creative thinking, reflection, and problem-solving skills
Strong organizational skills and ability to follow through on projects
Strong interpersonal skills with a variety of adults and youth in a public setting
Ability to take initiative and work independently
Ability to take direction and receive/integrate constructive feedback
Qualities/Characteristics
Outgoing, personable, curious
Enthusiastic, energetic, creative, flexible
Self-motivated, accountable
Reliable, capable, committed to timely follow-through
Committed to working inter-culturally
Preferred:
Valid driver's license and 3-years good driving record
Ability to communicate fluently with Spanish-speaking and/or East African community members
Position Scope
The Program Assistant is a part-time position (25 hours) year-round.
This position will require working conditions that include an office setting, outdoors and in the elements of our community gardens which require some physical labor, and out in the community connecting to residents and neighbors. The schedule will vary but will include working some evenings and weekends.  Wage is dependent upon experience and qualifications. 
The position will start mid- to late-February 2019.
To apply for position
Submit letter of interest, updated resume and a short essay (100 words or less) answering this question:
What is your first memory of food?
Send documents to: Jae Hyun Shim, Program Coordinator, Email: jhshim@hope-community.org
Deadline for interested applicants is Sunday, January 27th, 2019 5:00PM CST.
We will offer interviews late-January 2019.
The position will start mid- to late-February 2019.
Hope Community is an Equal Opportunity Employer